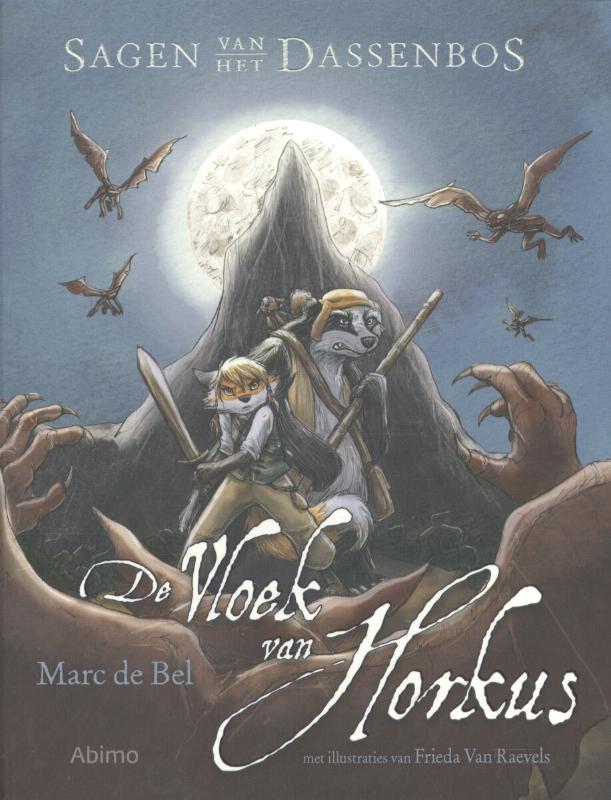 Marc de Bel comes with a new series. Exciting and imaginative, with a touch of magic and above all a lot of adventure. Read in The Curse of Horkus the first of the Sagen of the Dassenbos! Sages that have stood the test of time, Stories that have been wandering through the Dassenbos for centuries. And now are written down, by the skilled fingers of Marc de Bel.
In this first story you will get to know the three main characters: Fea Vos, fast, cunning and handy with the (wooden) sword, her bow and arrow and slingshot, the big and strong Brom Das, skilled with the fighting staff and the talkative joker Pips Squirrel, who must have his smooth chat and speed. They live together in the Dassenbos. They have lived there for years in peace, after a fierce battle with the horrific king Horkus the Great. There is still busy building on a wall, but there is a reason not to defend itself but to proceed to the attack.
The evil Horkus the Great has used a magical wishstone to pronounce a curse over the Dassenbos: when the king of the Dassenbos becomes a grandfather, after the first full moon all newborns will die! And that is going to happen now! What should actually be a big party turns out to be a complete disaster: the successor to the throne, if not intervened, causes a large mass murder in the Dassenbos. All adult animals that can still fight go on their way. Our three are not allowed to do that – they are only teenagers – but of course they do.
The three of them sneak through dangerous forests and areas. Meanwhile, they get to know all kinds of strange creatures. Some prove dangerous, others very helpful. Slowly but surely they are getting closer to the dangerous battlefield, and their doubts are beginning to grow. Do they do well here, to go to war so young?
The Sagen van de Dassenbos promises to be an exciting series with this first book, De Vloek by Horkus. It is a series that is not for everyone: sometimes there are quite exciting scenes, where it is clearly told how the enemies are killed. And although it is about animals – and therefore a bit further away from you – it is sometimes quite insistent to read. The story itself has a lot of speed and speed, so you will be completely spoiled in no time. The atmospheric illustrations by Frieda van Raevels definitely contribute to this: her illustrations really bring this magical world to life.
An absolute must for older readers (about 10 years) who enjoy exciting fantasy!